Introducing History As It Happens



We launching a new initiative as a part of our ongoing Online History Adventures. We will be documenting San Francisco's experience during the COVID-19 shutdown by creating an archive of images, videos, and narratives from the people of San Francisco as a record of how the city has coped with the effects of COVID-19. We are calling this initiative History As It Happens.
An Invitation to Share Your Experiences
We are inviting you, the people of San Francisco, to share your experiences during the pandemic by submitting photos, videos, letters, and memoirs to:
COVID-19@sfhistory.org.
Please submit in one or more of the following categories:
New Pastimes: What have you done to avoid cabin fever? Whether it's knitting, cooking, or making home movies–let us know how your pastimes have evolved while staying at home.
Scenes of the City: Share your videos, photographs, and artwork of San Francisco during the shutdown.
Acts of Kindness: Share some of the things you or others have done to help ease the burden of solitude and anxiety in our community.
Survival Through Creativity: How have small businesses dealt with the pandemic? While many have closed their doors, others have found creative ways to keep on going. Share your stories here.
Note: By submitting these materials you are giving SFHS the non-exclusive right to publish them online and in related digital media (such as our newsletter). PLEASE REVIEW MEDIA SUBMISSION GUIDELINES at the end of this page.
Our First Submissions



New Pastimes

Film making: SFHS Board of Directors member Noah Griffin stars in Dish Soap, an original film about a dishwasher disaster. This homage to silent films is produced by Joslyn Rose Lyons.
Coming Soon—Learning Morse Code: An interview with SFHS Board Member Tom Owens

---
Scenes of the City During COVID-19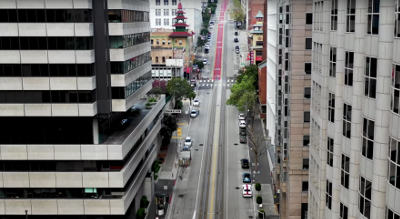 San Francisco Shut Down by Dan Denegre of Space Race Studio: Jaw-dropping camera drone footage of San Francisco's empty streets during the first days of the COVID-19 shutdown, accompanied with a haunting Flamenco guitar solo.
---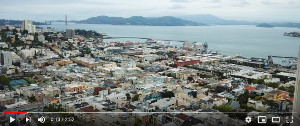 Shelter in Place: New Drone Video by Greg Lofano of Loaf Productions: New stunning aerial drone footage of San Francisco as the COVID-19 shutdown continues.
---
The Landscape of COVID-19: Photographs of the New Urban Normal
by Lana Costantini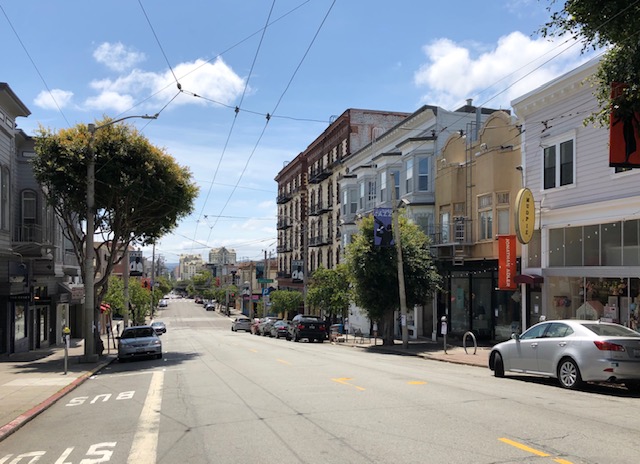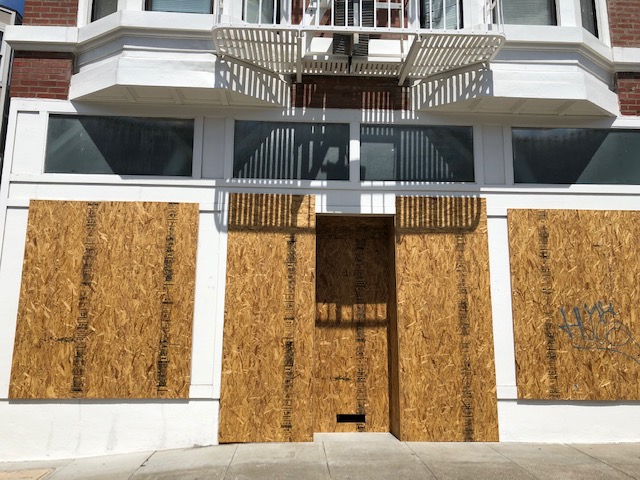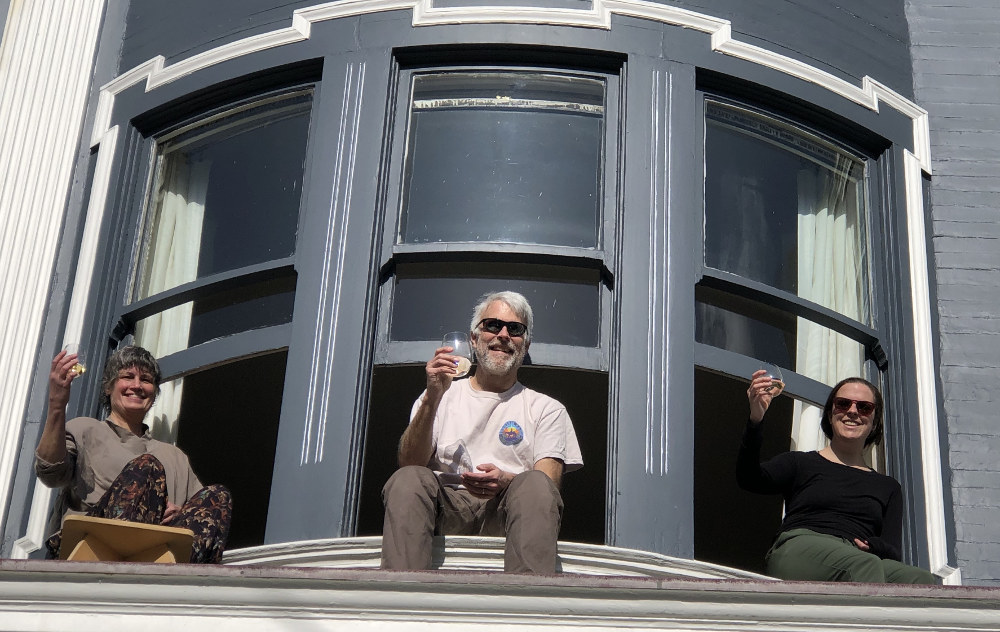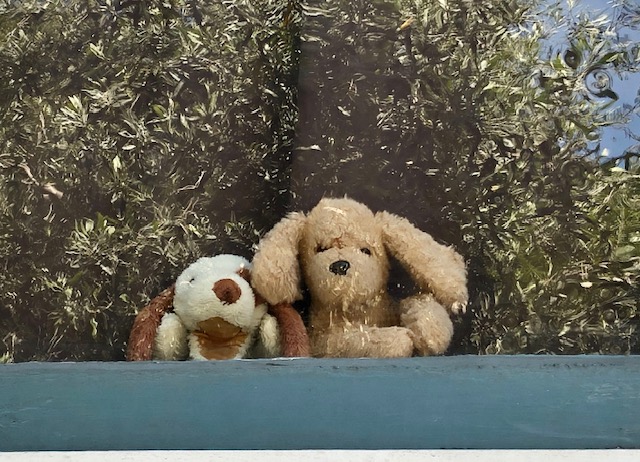 ---
Covid Coverup: Plywood Art During the Pandemic
Photographs by Mark Scheuer
As businesses in San Francisco began to board up their store fronts with plywood to prevent looting or damage to their windows during the Covid-19 lockdown, local artists painted them to create colorful murals. These are all temporary murals that will eventually be removed as businesses reopen.
Some artists were paid, many volunteered their time and materials, and others plan on selling the plywood panels when they are removed. The photos were taken in the Upper and Lower Haight, Castro, Cole Valley, Hayes Valley, and on Mission and Valencia streets.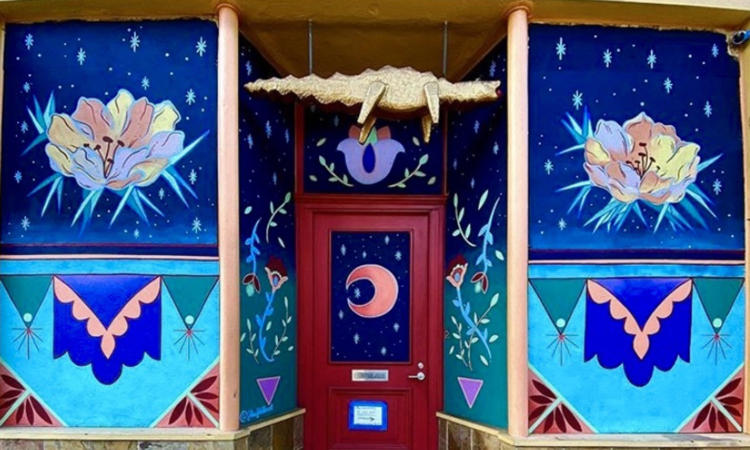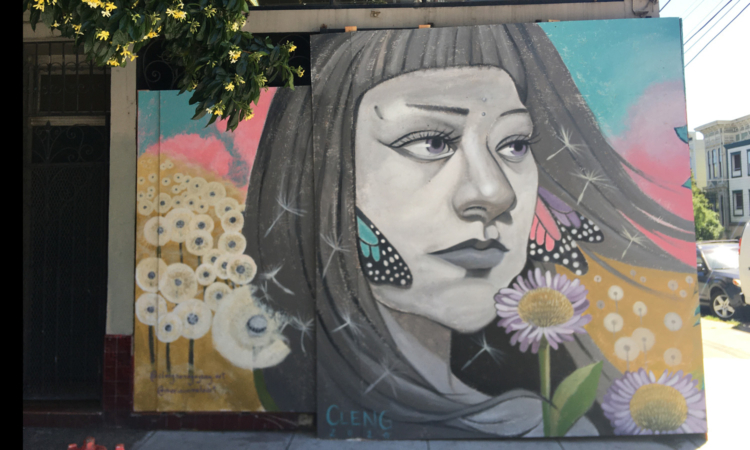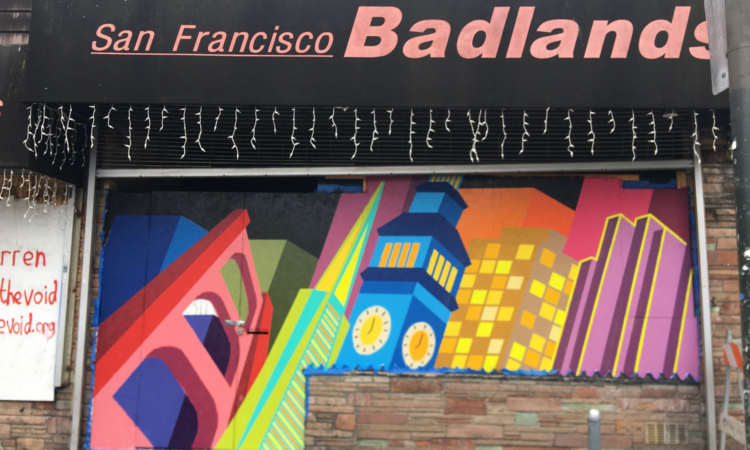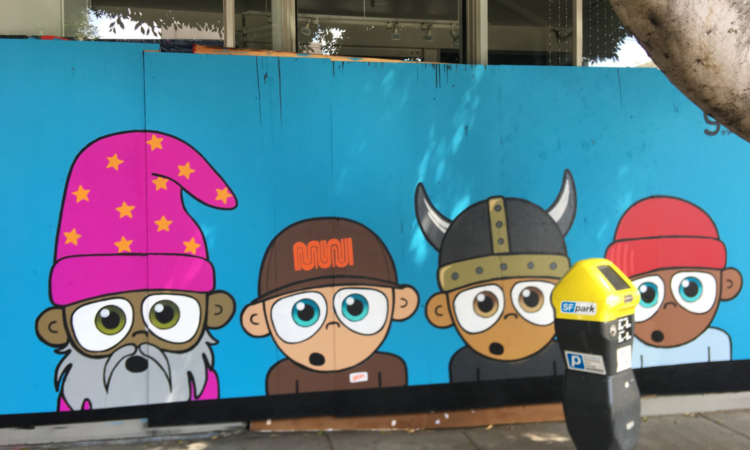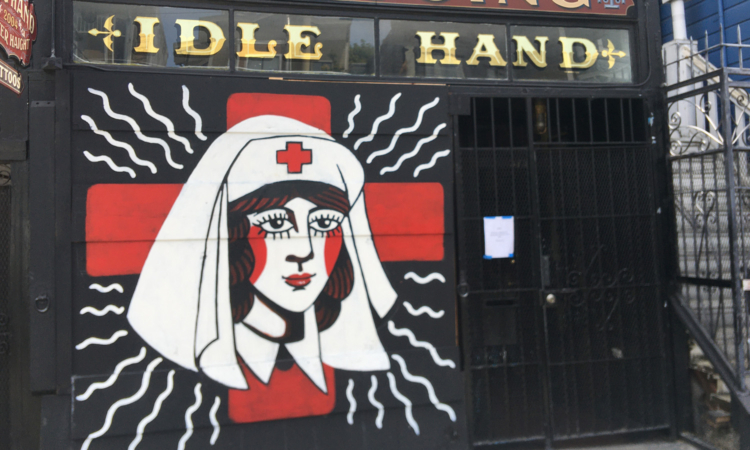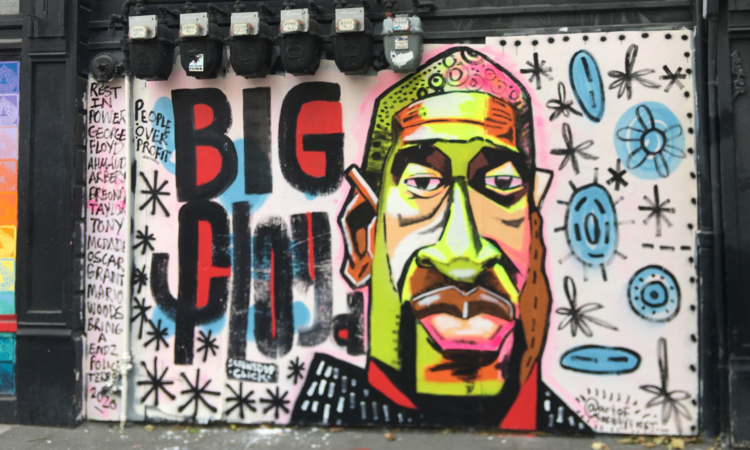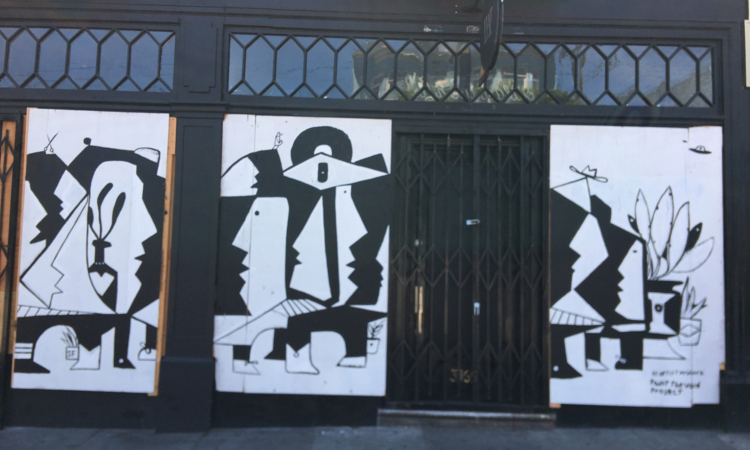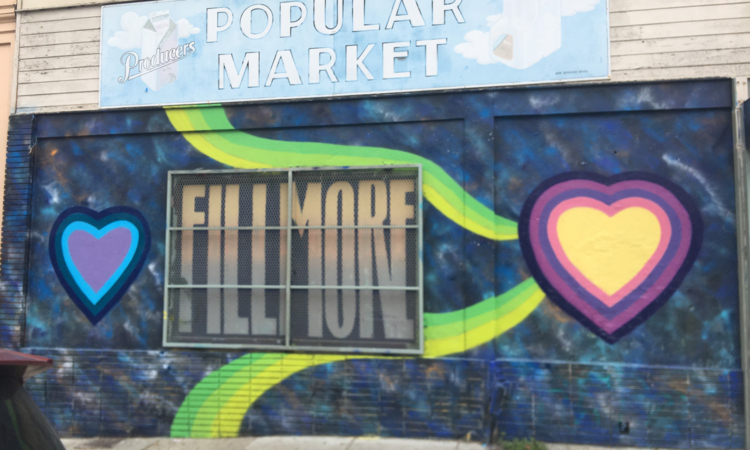 ---
Acts of Kindness

Lucinda Belle, noted harpist, singer, and songwriter, offers daily harp concerts on her back porch. Gathering on stairwells, back porches, and adjoining rooftops has become a daily ritual for one San Francisco city block. Visit Lucinda's website HERE.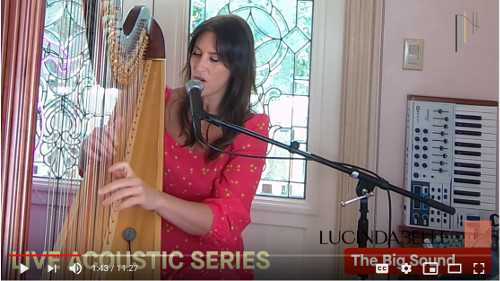 ---
Survival through Creativity
Bernal Heights has figured out its own wonderful ways of dealing with the shutdown–and this neighborhood's ingenuity has caught the attention of The New York Times. Times reporter Nellie Bowles explores how one San Francisco neighborhood has made the most of a difficult time. Read the article…
---
---
Submission Technical Guidelines:
Attachments should be sent along with an email to COVID-19@sfhistory.org
(several emails may be required due to size limits on single emails)
Images: higher resolution preferred (individual file size under 10 MB requested – up to ten images total, so please sent your best work).
Videos: preferably already posted to YouTube (preferred) or Vimeo. No attachments of video please.
Audio: MP3 or M4a (Apple format) only. No uncompressed WAV or AIF files as these are very large – file size must be under 20 MB.
Please email us if you have any questions about submissions.