In-Person Walking Tours
The walks begin at the SFHS Museum at 608 Commercial Street and explore the heart of San Francisco's historic civilian core, from Portsmouth Square to the Barbary Coast and the city's original waterline. The walks are updated versions of our Barbary Coast Trail walks.
Due to the surge in COVID-19 we've rescheduled the walks so they begin in March and extend into April. Please note the new dates below.
Gold Rush and Sunken Ships with Thom Jackson

Saturday, April 24; Saturday, May 15; Saturday, June 12
11:00 a.m. – 12:30 p.m.

The Birth of San Francisco's Financial District with Len Holmes

Friday, April 9; Friday, April 30; Friday, May 21; Friday June 25
12:00 p.m. – 1:30 p.m.
Barbary Coast and Jackson Square: Pleasure Seekers and Merry Makers with Carolyn Moniz
Friday, April 16; Friday, May 28; Friday, June 11
12:00 p.m. – 1:30 p.m.
Tours are free for members; $15 for non-members, and limited to 9 people or less.
Please submit the Reservation form below and we will contact you with confirmation details (or call Lorri Ungareti at 415.537.1105, ext. 6).
---
Virtual Walking Tours
Tours of 'Old Town' SF
Not up for an in-person event yet? Give our new virtual walking tours a try. These walks also begin at 608 Commercial Street. You can download them for free on the App Store or Google Play. Search for "City Explorer San Francisco" and look for the walks with the SFHS logo. Or, scan the QR code with your smartphone or tablet.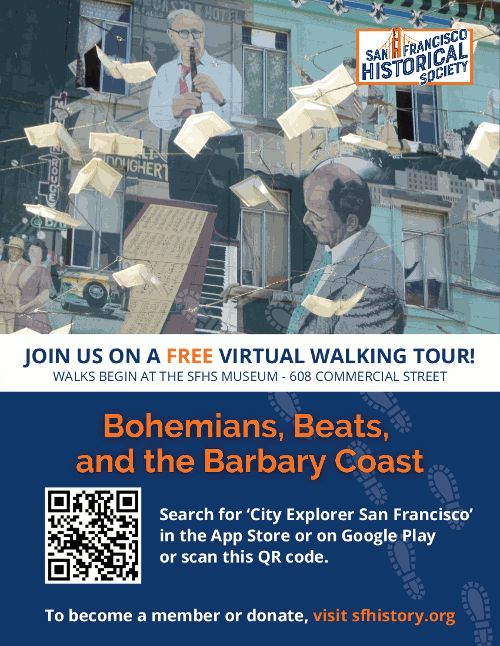 ---
Virtual Tours Led by SF High School Students
Walking Tours of Golden Gate Park!
Walking tours of Golden Gate Park led by San Francisco high school students, the winners of the 2020 Fracchia Prize, are now available as mobile apps. Download the walks for free and start exploring "Everyone's Park," with freshly minted historians as your guide. Choose from:
"Botany and Horticulture: Symbols of Flourishing Against the Odds" by Winnie Quock, George Washington High School (1st Place Winner)
"Horticultural History: Learning About San Francisco's Past Through the Garden Gems of the City's Favorite Park" by Indigo Mudbhary, Lick-Wilmerding High School (2nd Place Winner)
* COMING SOON * "It's a Ringer! One Perfect Day in Golden Gate Park" by 3rd Place Winner Luke Zeponni, Abraham Lincoln High School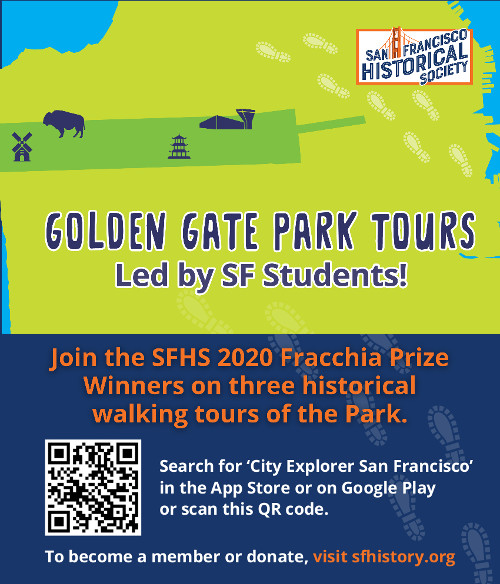 *  Special thanks to SFHS Volunteer Gloria Lenhart for creating our mobile history apps. *