In-Person Walking Tours
Our three revamped Barbary Coast Trail Walking Tours begin at the SFHS Museum, 608 Commercial Street. These walks explore "ground zero" of early San Francisco. Each tour is scheduled one time per month, July through September. Barbary Coast Trail tours are free for all walkers at this time, but you must register in advance.
Gold Rush and Sunken Ships

Saturdays, 11:00–12:30: July 17, August 21, September 18
Experience how San Francisco went from a trading village to a metropolis. You'll learn about the hidden remains of sunken ships and artifacts from the Gold Rush.
Tour guide: Thom Jackson.

The Birth of San Francisco's Financial District

Fridays, 12:00–1:30 pm: July 23, August 27, September 24
Travel back in time to hear stories about significant buildings in the Financial District and tales of companies whose names adorn them. You'll learn about bankers, miners, merchants, and others who contributed to the growth and prominence of San Francisco in the late 19th century.
July tour guide: Thom Jackson; Aug. & Sept. tour guide: Len Holmes.

Barbary Coast and Jackson Square: Pleasure Seekers and Merry Makers


Fridays, 12:00–1:30: July 16, August 20, September 17
Explore the beginnings of the "anything goes" city through its culture, food, and vice. Is it so different today?
Tour guide: Carolyn Moniz.
Gold Rush Walks for Kids
Our trained guides offer free walking tours focused on the Gold Rush. (This walk directly addresses grade 4 social studies standards, but students in grades 3–6 are welcome to attend.) Walks are limited to 10 students.
Tours are currently FREE, and limited to 15 people or less.
Please submit the Reservation form below and we will contact you with confirmation details (or call 415.537.1105, ext. 6).
---
Virtual Walking Tours
Tours of 'Old Town' SF
Not up for an in-person event yet? Give our new virtual walking tours a try. These walks also begin at 608 Commercial Street. You can download them for free on the App Store or Google Play. Search for "City Explorer San Francisco" and look for the walks with the SFHS logo. Or, scan the QR code with your smartphone or tablet.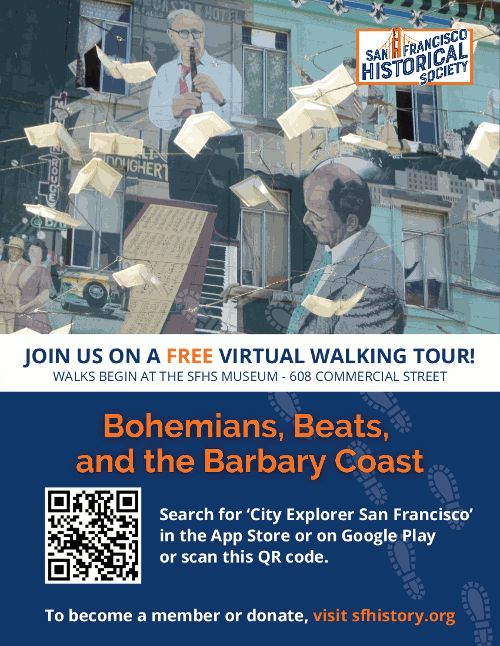 ---
Virtual Tours Led by SF High School Students
Walking Tours of Golden Gate Park!
Walking tours of Golden Gate Park led by San Francisco high school students, the winners of the 2020 Fracchia Prize, are now available as mobile apps. Download the walks for free and start exploring "Everyone's Park," with freshly minted historians as your guide. Choose from:
"Botany and Horticulture: Symbols of Flourishing Against the Odds" by Winnie Quock, George Washington High School (1st Place Winner)
"Horticultural History: Learning About San Francisco's Past Through the Garden Gems of the City's Favorite Park" by Indigo Mudbhary, Lick-Wilmerding High School (2nd Place Winner)
* COMING SOON * "It's a Ringer! One Perfect Day in Golden Gate Park" by 3rd Place Winner Luke Zeponni, Abraham Lincoln High School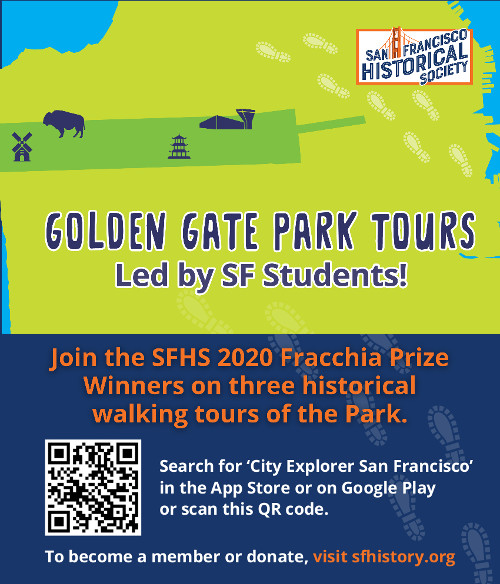 *  Special thanks to SFHS Volunteer Gloria Lenhart for creating our mobile history apps. *